IF IT WORX, IT'S UTAX.
As a partner of high performing specialist retailers, UTAX paves the way for digital processes and is flexible and solution-oriented. Have you ever wanted to work with a partner who ticks just like you?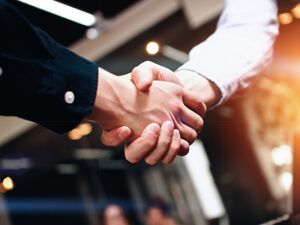 What we stand for
When UTAX built up a network of specialist retailers for office communication in the 1960s, digitalisation was still a long way off. Word of the superior quality of UTAX products spread and the company, which was founded in Hamburg in 1961, grew rapidly, first in Germany and then beyond its borders. Now operating under the umbrella of TA Triumph-Adler, UTAX has a presence in 40 countries across the globe and has been selling printing systems and digital solutions in close partnership with a network of high performing specialist retailers for more than 50 years.
Our strategic approach
A good partnership is based on trust and reliability. Our partners can rely on us to respond to their concerns quickly and flexibly. Challenges are there to be overcome. This focus on solutions is also reflected in our slogan: IF IT WORX, IT'S UTAX.
Our philosophy
Our success is inextricably linked to the dedication of our partners. It is therefore clear that we must support each other to the best of our ability. At UTAX, every partner has a personal contact person and can count on fast and direct communication on an equal footing.
You might also be interested in